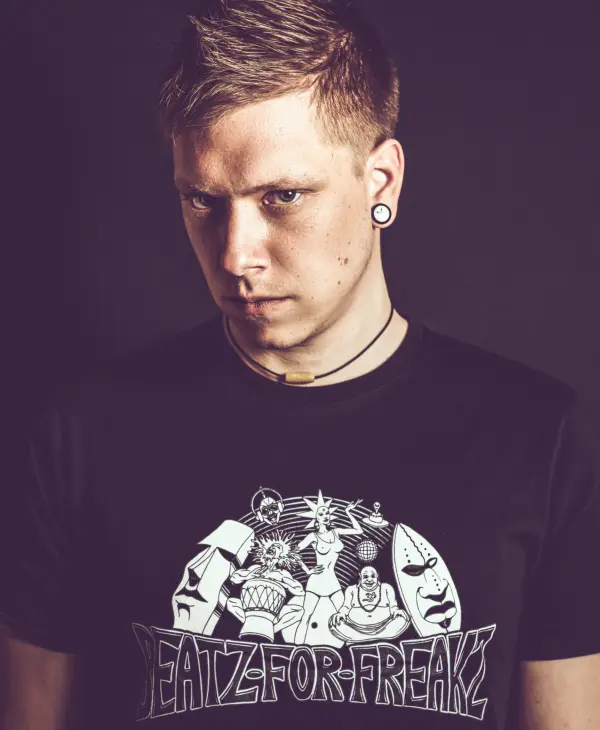 DJ since 2005
It was in 2006 when the young music enthusiast started his career as an Afro DJ. Inspired by DJs like Daniele Baldelli, Beppe Loda and DJ Ebreo, among others,
he developed his own style, adding modern styles and sounds to his repertory without losing the connection to his roots in Afro-Cosmic music.
This awareness of the basic principles of Cosmic combined with his eclectic sound selection is what makes his sets diverse and varied.
Afro, Funky, Disco but also Electronic and Worldmusic are styles that can be found in his set.

Additionally, he discovered the art of producing music, releasing the first in 2010 on his own label, Beatz for Freakz Recordings.
Apart from that, he's also been busy producing tracks and remixes for different Labels.
Discography
Discomatic
Midnight Dream (DJ Zeyhan & Cosmic Orchestra)
Funky Kisses (DJ Zeyhan & Cosmic Orchestra)
Electric Man (DJ Zeyhan & Cosmic Orchestra)
Welcome (DJ Zeyhan feat. Vaan)
Infected (DJ Zeyhan and Vaan)
When the Night begins (DJ Zeyhan and Vaan)
I like it feat. Nejma (DJ Zeyhan and Vaan)
Disco Bomb (DJ Zeyhan and Vaan)
Make it Funky
Cosmic Pieces
We are Freakz! DJ Zeyhan & Vaan)
Weg! feat. Nejma (DJ Zeyhan & Cosmic Orchestra)
Ma Tete
Gravity - Tribute to Robert Miles
Electric Elements
Sri Lanka
Vienna
Cosmic Tools
Wonderful Life
Vibes feat. Nejma
La Luna feat. Nejma
Zeyhan's Drums
Remixes
Pakobeatz - Sound of Underground
Pakobeatz - Fisherman's Journey
Jolly Roger - Neck Horse Nebula
Technological Fallout - Cosmic
Eclectic Sound - Zenith
Paris - Total recall
Discolog - Homeless
Semi Functional - When we're back on Venus
Semi Functional - Strange Skies
Anton Romezz - Sunrise in Karelia
Casual Encounters & O'Dahl - I don't know
Tape Warm - Silver Copy
DJ Zeyhan & Cosmic Orchestra - Kontaani
Nicolas Grey - Feel the Melody
Cloned in Vatican Vs Semi Functional - Megalopolis
Anton Romezz - Dancing Around the Apple
DJ Styles
Afro-Funky-Electronic-Worldwide Music
Electro, Goa, Techhouse
DJ Zeyhan has played @
K41 Munich, Kiki Istanbul, Abseits Freising, Labor Munich, Galaxy(Z6) Innsbruck, AK1 Munich, Orangehouse Munich,
Livestage Innsbruck, Brik Munich, Sunrise Lounge Munich, Miri's Kassel, Die Bank Munich, Percha Festival Starnberg,
Bunker Munich, Station 2 Munich, Forest Blumenau, Titty Twister Innsbruck, X-Cess Munich, Sonder-Bar Munich,
Bauhof Thalkirchen Munich, Babalu Munich, Lebenslust Munich, Chilla Villa Walchsee Tirol, Forest Starnberg,
Forest Gräfelfing, Stustaculum Festival Munich, Rotes Haus Munich, Café am Hochhaus Munich, Provisorium Munich,
Este Bar Munich, Forstenrieder Park Munich, KPPM Allach, Corso Leopold Streetfestival Munich, Pimpernel Munich, KOI Munich,
Bar Comercial Munich, Rock Box Munich, Kulturspektakel Gauting, Tanz durch den Tag Vienna, Strandbar Herrmann Vienna...
Resident @ Die Bank Munich 2007 - 2011
Resident @ Café am Hochhaus (together with DJ Enne) Munich 2009
Owner of Beatz for Freakz Recordings
DJ Zeyhan has played with
Daniele Baldelli, DJ Enne, Yaniv Tal, DJ Stefan Egger, Rayko, DJ Venus, DJ Bogi, Tebo, Bonghi, Mike, Sito, Benni, Raiz,
Ralf Brand, Gobo DJ, Dr. Gonzo, DJ Pako, DJ Churchy, Madeira, Epileptic Rootz, DJ Gotori, Kommissar Keller, Garbfunkula,
Da Feia, Henric, Suendesizer, Mandara, Ben, Hoppa, Techtrix, X-Ray, TIM o.S., Bubkomisch, DJ Ayko, Polar, Schetthouse, Baila, Wie Ich,
Felix Fuhrberg, Rollo Roys & Feta Chris